Love Moneyfrog?
So do we.
Our small team is growing fast. We'd love your help
in making Moneyfrog truly special. Come join us!
You'll fit right in.
........................
Team Moneyfrog is growing — a tiny footprint for what's happened so far. Every week brings new challenges and it's our job to meet them.
This is one place where you'll never be bored. :)
Half of us work on the product.
We build, design, and refine
how millions of people interact
with the site.
Half of us work on the community.
We interact with professionals
and guide them to a happy
financial life.

Meet the team.
Financial Advisor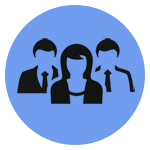 Relationship Manager
Sales

Web Designer